Our Story
Kelly Stephen Consulting has been helping organizations like yours since 2011. I have built this practice based on my extensive background of leading software and product organizations to create and deliver successful world class, high quality enterprise applications that met or exceeded customer expectations. My experience has been in taking over underperforming organizations and providing the required leadership and guidance to improve execution and delivery by upgrading personnel and leadership, developing a clear portfolio strategy, providing better communication with customers and internal stakeholders, improving processes, and instituting a robust planning practice. This has been proven in different companies ranging from start-ups to $5+ billion organizations across multiple industries such as automotive insurance, healthcare, healthcare insurance, hospitality, financial services, and search engine marketing. This experience includes:
First American Database Solutions, Vice President Strategy & Product Management
Infor Global Solutions/SoftBrands, Vice President Global Products
WebVisible, Chief Technology Officer
Fair Isaac, Vice President Product Development
CCC Information Services, Vice President Product Development
Since I started my own consulting firm in 2011, I have worked with companies of various size, from start-ups to multi-billion dollar enterprises. I have had many successful engagements covering such as interim leadership for technology and product management teams, bringing on and managing strategic and development partners, enhancing product launch processes and successfully launching new products, program management for several initiatives including a massive mainframe to mid-tier migration, and significant experience with merger and acquisition activities.
References will be provided on request.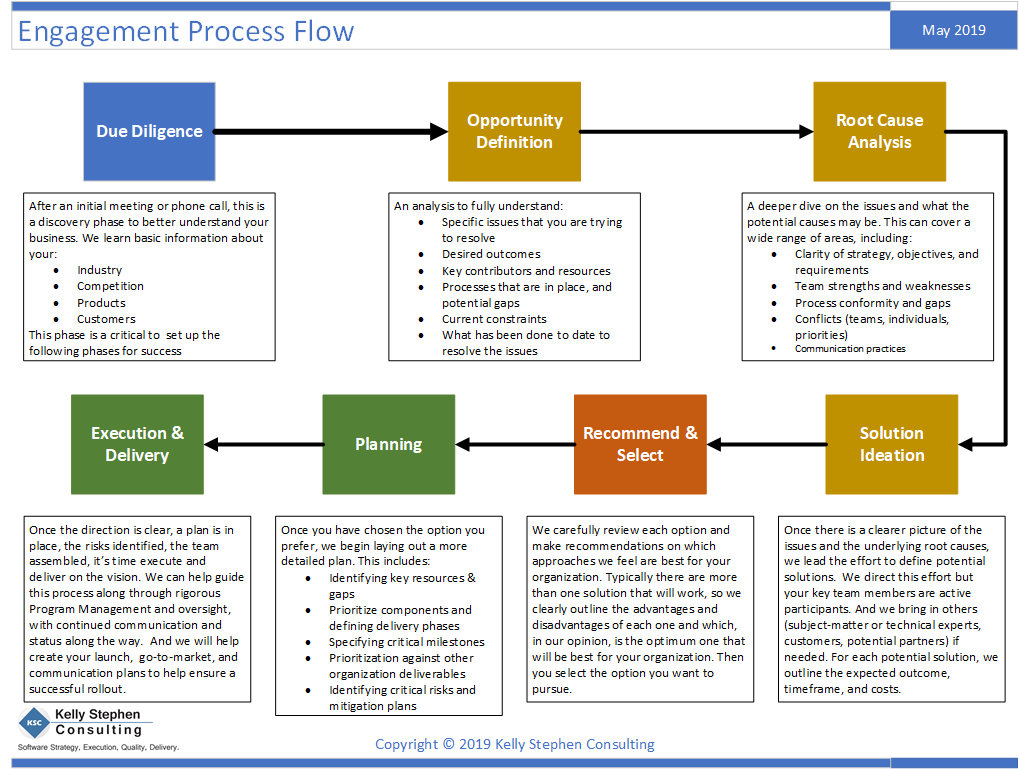 Our Approach
With each engagement, I go through a rigorous process to help your company improve. First is a due diligence phase to understand your company, industry, products, and customers. I will work with you and your team to clearly define the problem, then identify root causes that need to change. Together we develop solutions and put together priorities and plans to identify key success metrics to fix the problem. And I can provide additional leadership to ensure your success.
Need some help?
If you need help executing and delivering your software/technology vision, want to grow revenue and improve customer satisfaction just click on this button and let us show you how we can help.